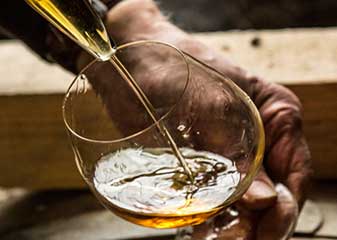 Armagnac is one of the top 3 spirits matured in Oak, the others being Whisky and Cognac. It is a Brandy from the Gascony region of southwestern France. Its closest, more famous, relative is Cognac, another grape brandy from an area located about 100 miles north of Armagnac.
Even though it is related to and often confused with Cognac, Armagnac is different with regards to its grapes, earth, distillation, blending, aromas, tastes and textures.
Armagnac is made from distilled wine, and so the grapes are the first factor that gives it an original personality.
Traditional Armagnac is distilled only once, thereby retaining many of the esters, acids, and congeners (therefore adding to its earthy complex taste) that double distillation eliminate, in a small continuous still called an 'alambic' and then aged in Oak barrels. Either Gascon Oak (more tannins) or Limousin Oak (more Vanilla) are used.
If you have had the opportunity to try a quality aged Armagnac, then you will understand its attractions, and seek out more Armagnac Distilleries to enjoy.
If this is your first time…order the Dartigalongue 15 year old… and don't tell your friends !
No products listed yet