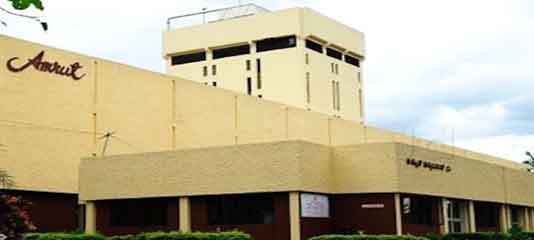 A single malt from the foot of the Himalaya's.
Produced in India, Amrut Single Malt Whisky is a product of 20 years of research by Amrut Distilleries, which was founded in 1948, in an effort to produce high quality malt whisky is tune with world standards.
The whisky is made from select Indian malted barley grown in Punjab and Rajasthan, the northwest frontier states of India. The cold winters and fiery summers create a unique quality of grain, rich in flavour. Malting takes place at maltsters in Jaipur and Delhi.
The malted barley is then transported to the south of India to the production unit in Bangalore where it is carefully mashed and distilled in small batches to preserve the natural aromas. The whisky then undergoes maturation in imported oak barrels in a unique tropical condition at a ware house on the distillery premises in Bangalore, the Garden City of India, which is at an altitude of 3000 ft. above the sea level.
To maintain the natural character of the product, the whisky is not chill filtered.
Amrut was recently named a "Distiller of the Year" in the Icons of Whisky 2011.