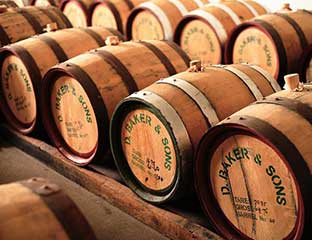 David Baker, a former biochemist, established Bakery Hill distillery in 1998. The first spirit was produced in 2000 with the first single malt whisky available in autumn 2003.
Unique in the whisky world, Bakery Hill handcraft their whiskies in Victoria, Australia and produce a malt of outstanding character, consistency and detail. Each bottle of Bakery Hill is drawn from a single cask. The barrels used have been broken down and rebuilt into 50 and 100 litre capacity casks to increase the ratio of wood to spirit contact.
"They are not just good by Australian standards, they're good by any standards you'll find worldwide. The balance of peat and liquid honey in the peaty version is without equal anywhere on the planet. We're talking 90 points plus here. Great great whisky" (Dominic Roskrow – Editor, World Whisky Review)
*Awarded the 'Best Small Distillery of the Year' in 2005 by Jim Murray.