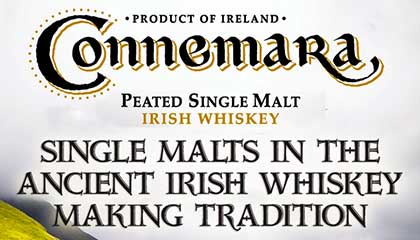 Connemara whiskey is made at the Cooley Distillery, in Ireland, and is located on the Cooley Peninsula in County Louth. It is the only independent Irish owned distillery in Ireland, converted in 1987 from an older potato alcohol plant by John Teeling and other investors.
Cooley use two smaller copper pot stills with large necks, according to the distillery, the size of the necks increases the time it takes for the spirits to pass through with 50 percent.
The result is a more refined and milder whiskey. Compared to other Irish distilleries such as Bushmills, Cooley only distills their whiskey twice.
Cooley has won over 300 medals since opening. Other awards they have received include "European Distiller of the Year" in 2008 and 2009 and "Distillery of the Year" in 2008 from the International Wine and Spirit Competition, and "Distillery of the Year" in 2010 from Malt Advocate magazine. Cooley has continued its phenomenal success with four Gold Medals for its Connemara Peated Single Malt Irish whiskey range including two Best in Class honors at the International Wine and Spirits Competition (IWSC)2011, reaffirming its place as the most honoured Irish Single Malt of all time at International Spirits Competitions.