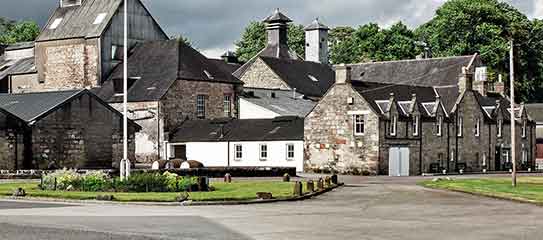 The Dalmore Distillery, located on the northern shores of the Firth of Cromarty, deep in the spectacular Scottish Highlands, has been producing exceptional single malt whisky since 1839. The Distillery was established in 1839 by Alexander Matheson a trader who made his fortune in illegal opium imports from the Far East. Overlooking the Black Isle, the "big meadowland," from which it takes its name.
The distillery was bought by the MacKenzie family in 1886. The story has been passed down, that in 1263, a predecessor of the Clan MacKenzie saved King Alexander III from a rampaging stag whilst out hunting. In reward, the King allowed him to bear the Royal emblem of a 12-pointed stag in his coat of arms.
For almost a century, it was owned by the Clan Mackenzie. The clan's defining influence on the distillery is still evident to this day, with the iconic royal stag's antlers – taken from the Mackenzie family crest – adorning each and every bottle.
Richard Paterson is Master Distiller for The Dalmore. Richard began his career at a whisky brokerage in Glasgow and following completion of his apprenticeship, joined The Dalmore where he has been Master Distiller since 1970.
The distillery warehouses feature some of the oldest whisky stocks in the world.