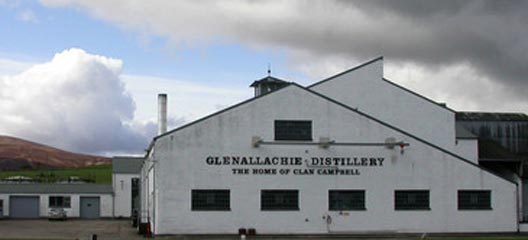 The Glenallachie distillery is a located in the Scottish Speyside whisky village of Aberlour.   The distillery is a relatively modern addition to the Scottish distilleries built by Mackinlay Mcpherson and commencing operations in 1967.  It draws its water from the remote springs in the Ben Rinnes mountains and maintains a low profile and quiet existence and is not open to the public.
One unusual feature of this distillery is the "membrane bioreactor" which was installed to improve the quality of the waste water.  It is one of the few distilleries to have this environmentally friendly treatment, which enables the waste water to be purified and returned directly into the Lour Burn.
In 1989 it was bought by the Campbell brothers who added two extra stills expanding the distillery to a two wash two sprit still capacity.  Today it is owned by Chivas brothers which is part of Pernod Ricard and is almost entirely devoted to the production of spirit for the Chivas blends.
This makes Glenallachie single malts very rare but occasionally a handful of limited releases are bottled and offered to the market.
Showing the single result
Showing the single result