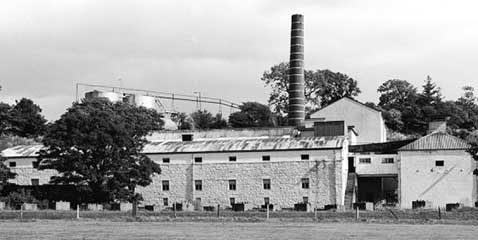 The distillery was first started in 1824 by a Captain Barclay of Ury to provide a market for Barley in an agricultural depression. Weeks after opening, a fire destroyed stocks of barley, along with the Kiln and parts of the malting floor. Two weeks after the fire, worker Andrew Clark died in a boiler accident. Robert Barclay died in 1854, and the distillery was auctioned to William Richie 3 years later.
The main source of power at the time was a water wheel that was doing almost everything: driving the gearing for the Mash Tun, the Sack Hoist and the Rummagers in the Wash Still. There was no steam power and it's only when the distillery was reconstructed, in 1965-1966, that electric power replaced water power.
Aberdeen Journal wrote: "This extensive an very complete Malt Distillery is situated within a mile of the seaport of Stonehaven and 15 miles south of Aberdeen. It is capable of distilling 120,000 gallons of whisky annually, and in consequence of the perfect system of machinery (all propelled by water) the expense of manual labour is greatly reduced… The whisky produced at the works has long stood in high repute both in the Scottish and English markets".
The fact King William IV authorized the Distillery to add "Royal" to its name in 1835 is also due to the personality of Robert Barclay who referred to his Queen as Mrs Windsor.
The distillery closed in 1995.
Showing the single result
Showing the single result