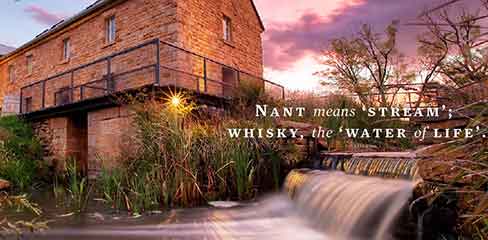 Just an hour from Hobart, Tasmania, in Bothwell, is the historic Nant Estate (circa 1821). Purchased by the Batt family in 2004, it continues to be lovingly and meticulously restored to its former glory. Today it is the proud home to the Nant Distilling Company, producers of the internationally renowned Nant Single Malt Whisky.
In 2012, just four years after beginning commercial production, Nant Single Malt Whisky was catapulted to global renown when Jim Murray, the world's foremost whisky commentator, scored Nant Single Malt Whisky – American Oak Bourbon Wood 95.5 out of 100. This rarest of scores saw Nant rated among the top 50 whiskies in the world.
Nant', meaning 'stream', was the name given by the first Welsh settlers to both the Valley and the Estate. This very stream meanders through Nant Estate and flows into the millpond; that powers the wheel that turns the stones that grist the malted barley, that also gives its name to Australia's only Highland Single Malt Whisky.