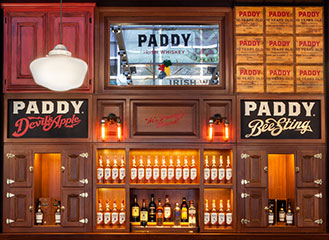 Paddy Whiskey is a brand of blended Irish whiskey produced in Cork, Ireland, by Irish Distillers. It is Ireland's third best selling whiskey.
It was first produced by the Cork Distilleries Company, two years after being started in 1877. In 1882 the company hired Paddy Flaherty as a salesman. Flaherty traveled the pubs of Cork, buying drinks for the customers. His sales techniques were so good that his name became synonymous with the whiskey both in Ireland and abroad. In 1912, the distillery officially renamed the whiskey Paddy Irish Whiskey in his honour. During the 1920s and 1930s in Ireland, whiskey was sold in casks from the distillery to wholesalers, who would in turn sell it on to publicans. Cork Distilleries Company wanted to prevent any fluctuation in whiskey quality due to the bonder underhandedly diluting the casks, thus, the company became one of the first to bottle their whiskey.
Paddy Whiskey is distilled three times from the finest quality barley and water. This ensures a whiskey, which is particularly light, well balanced and pure. Its relatively low pot-still content and uniquely high proportion of malt whiskey, ensures Paddy is "One of the softest of all Ireland's whiskeys"- Jim Murray, Whisky Bible.