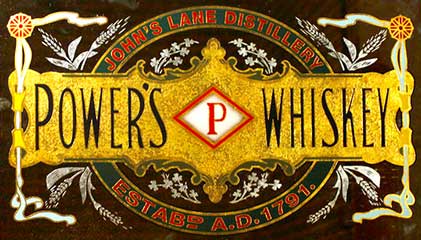 In 1791 James Power founded the distillery at John's Lane, Dublin City. In 1871 the distillery was rebuilt in the classic Victorian style, occupying almost 7 acres and employing about 300 people. In 1975 distillation was moved to a new purpose built distillery at Midleton, Cork, Ireland.
No other whiskey tastes like Powers Irish Whiskey because no other whiskey is made like it. A blend of triple distilled pot still & grain whiskeys, this is the story of how their unique distillation process delivers a complex, rich and layered taste.
The creation of the pot still side of whiskey begins by malting barley, then drying it in enclosed kilns so as to not impart any smokey flavor.
This malted barley is then combined with unmalted barley and finely milled. This combination is mixed with water and brewing yeast, creating a mash indigenous to Irish Whiskey.
During fermentation the starches of the combined barleys are converted to alcohol. The 'wash' that is produced is then triple distilled and carefully maturated to ultimately become pot still whiskey.