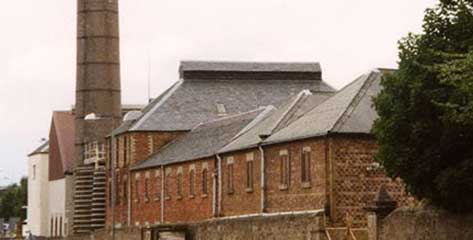 The Rosebank distillery was situated in Camelon on the banks of the Forth and Clyde canal between Edinburgh and Glasgow. Its name originated after the roses which grew along the side of the canal.
Records exist, showing that a distillery existed in Falkirk as early as 1798, it was run by the Stark brothers in Laurieston. In 1817, James Robertson opened a distillery nearby named Rosebank – records are unclear as to whether this was in the same location as the later distillery. It remained open only until 1819. In 1827 John Stark opened Camelon distillery on the west bank of the canal, he ran this until his death in 1836. After this time the Camelon distillery was run by Thomas Gunn and his father. In 1840 the Gunn's were approached by James Rankine to either buy or lease the Camelon distillery Maltings (on the east bank of the canal) where he set up a new distillery under the Rosebank name. The new Rosebank quickly grew, requiring expansion in 1845 and rebuilding in 1864. In 1861 when the Camelon Distillery went bankrupt, Rankine was able to purchase it as well and demolish it, leaving only the maltings for the use of Rosebank. Rosebank Distillery Ltd was formed in 1894, and in 1914 it was among the companies that amalgamated to form the Scottish Malt Distillers.
Rosebank was once considered one of the premier lowland whiskies but United Distillers mothballed the distillery in 1993.  By 1988, the bonded warehouse for the distillery (on the west bank of the canal) had been sold off and redeveloped, partially becoming a Beefeater Pub and Grill.
In 2002, the distillery buildings and contents were sold to British Waterways by Diageo, and the maltings were demolished to make way for a housing development.
Showing the single result
Showing the single result