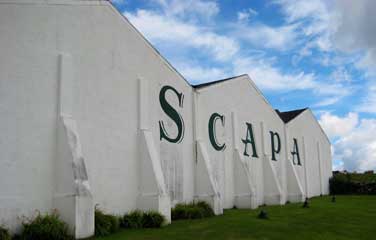 Scapa is one of the northernmost distilleries in Europe: it is located in the Orkneys, an archipelago of over 67 islands to the extreme north of Scotland.
The distillery was founded by John Townsend and MacFarlane, Glasgow distillers, on the shores of the famous Scapa Flow.
During the first world war, the distillery narrowly escaped being destroyed by fire, thanks to the intervention of the Royal Navy. It was then used as a munitions depot by the British army.
In 1936 the distillery was acquired by the Bloch brothers. In 1954 it was sold to Hiram Walker, who completely rebuilt it 5 years later. Since January 2006, Scapa has belonged to the Pernod Ricard group.
Scapa is distilled in very small stills of a rare design, known as Lomond stills. It mainly produces single malts, with a very few blends. Just three people run the distillery, ensuring high quality production. Scapa production is limited to 200,000 litres per annum.